Among other things, your roof provides protection from the elements and proper insulation, which is why you need to use quality materials, like those offered by McIntyre Construction, when constructing your roof and repairing it.
Top Rated Asphalt Shingle Roofing Contractor
Asphalt shingles are among the most popular roofing materials for modern homes, and for good reason, as they offer numerous benefits.
Glass-based asphalt shingles are the most common roofing material in the United States because they provide good fire protection, good wind ratings, good impact resistance, and a wide range of design and color options.
Our roofers at
McIntyre Construction
specialize in asphalt shingle roofing and are familiar with the installation requirements from the various manufacturers. We have years of experience installing asphalt shingles roofs in New Hampshire, Southern Maine & Northern Massachusetts. The integrity and longevity of your roof depend on a properly installed roof.
You can find a shingle that fits your home, personal preferences, and budget with so many styles and colors available.
You can learn more about selecting the right shingle on our page.
Importance of Asphalt Shingles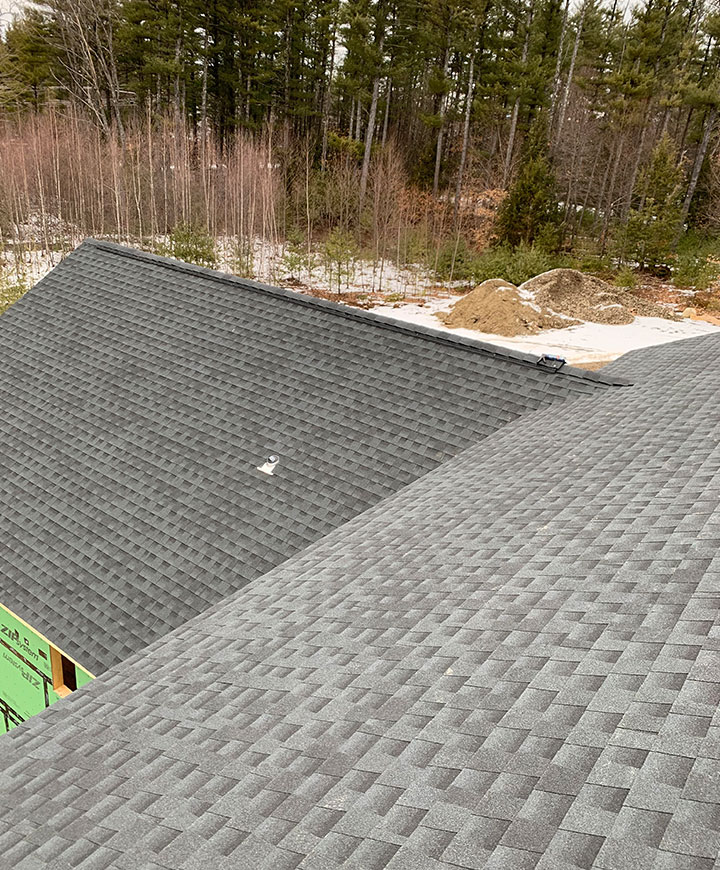 Get a Free Estimate Now !
If you have chosen the shingles you want on your roof, you will need a dependable, dedicated roofing professional to ensure that the shingles adhere to each other properly and that they are properly nailed in. You can also choose the type of shingles you use to influence the length of time before you need major maintenance or a complete replacement. 
Regular shingles can last anywhere from twenty to thirty years, depending on the materials used and the workmanship. In locations with constant weather conditions, shingles can last thirty to forty years. Fortunately, sudden weather changes and thermal shock are the main cause of shingle erosion. 
When the integrity of the shingles is compromised and the nails are exposed, water may seep through the shingles, causing rot and moisture damage to the structure. Having a damaged roof can be a major headache, and it can also cause problems for your property that go beyond the roof's structural integrity. We are a local roofing company available to perform roof repair work in the surrounding area. Give us a call right now if you feel your shingles are worn out; don't wait until it's too late.